Uncompromised design, at an affordable price.
Attractive - V-Squared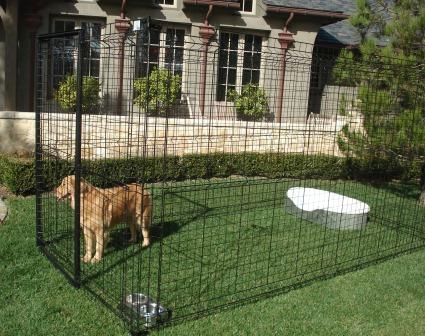 kennel's
unobtrusive design plays a supporting role to your landscaping rather than distracting from it, allowing the beauty of your home to take the lead.

A genuine physical barrier to keep your pet safe from wandering off; all in an attractive form that doesn't compromise on functionality.

Radio style pet training devices create virtual fence boundaries and have become increasingly popular in recent years. Like these invisible fences, V2 kennels won't distract from your landscaping with the added benefit of avoiding the expense and disruption of fencing the entire yard or burying cables.

V2 will help keep your pet safe when a training boundary just isn't enough. Neighboring pets in "season", aggressive pets in your neighborhood, distant thunderstorms, or wild animals can be challenges for training devices alone.

Unlike chain link dog runs or other black coated kennels our patented wire frame design provides the strength without the bulk, playing it's role, without needing to be center stage.
Less is more...it's a beautiful thing.


Unique flip latch system operates multiple latching tabs securing the gate top to bottom. Lift - Roll - Twist latch operation provides extraordinary protection from your pet operating the mechanism.

Swing in design conditions your pet to stand away from the door.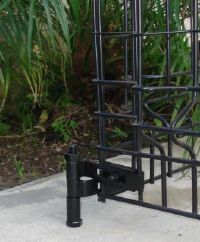 Use the extended end of the bolt to create a leg for easy cleaning on hard surfaces. Reverse the bolt to sit flush on the turf to minimize digging. Portable kennels should adapt as your needs change.


Contact your referring dealer for more details.